New Worldwide Tourism Survey Ranks Costa Rica Number One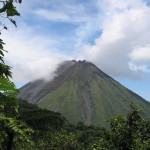 In our increasingly interconnected and globalized world, there are literally thousands of destinations that tourists can visit easily. Whether it's adventure tourism, ecotourism, or anything in between, Costa Rica has had decades of practice at making visitors welcome. All that practice has paid off with a new global survey naming the country the most recommended tourism destination in the world.
Called the Global Tourism Monitor Survey, it was conducted by BDRC Continental and asked participants where they had traveled within the last year and which destination they would most recommend based on their own experiences. Representing 26 countries, the 23,000 respondents gave Costa Rica the top spot. That is not entirely surprising given Costa Rica's wealth in outdoor and adventure activities with beautiful rain forests and towering volcanoes not to mention some of the most breathtaking beaches in the world. What was surprising is that Costa Rica ranked number one while no other Latin America or Caribbean destination made the top 10. In fact only 6% responded that they were planning on traveling to the area.
Just behind Costa Rica came Austria, then Israel, New Zealand, Italy, Japan Croatia, USA, Norway, Canada, Greece, and the UK. Europe as a whole has long been a popular travel destination so it is no surprise that 43% said they have serious plans to travel there soon.
On the other side of the equation, Tunisia ranked as the worst with Indonesia, China, Malaysia, Ukraine, India, Cambodia, Albania, Russia, and Bulgaria rounding out the 10 least recommended travel destinations.
Costa Rica's focus on ecotourism has made it an uncommon travel destination. With the current boom in adventure travel and outdoor sports, the country is nicely positioned to continue offering a unique experience to travelers from all over the world. That combined with its famously friendly citizens means Costa Rica could be number one for quite some time.
Thanks to the Tico Times for the original story.