White Marlin Caught at Extreme Kayaking Fishing Tournament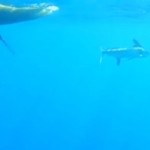 Kayak fishing is becoming popular in a big way. It's become part of more traditional fishing tournaments and it is inspiring new tournaments as well. That's where the Extreme Kayaking Fishing tournament fits in. Only in its third year, the event has become quite popular and the organizers have expanded it from its base in Pompano Beach, Florida to Freeport, Grand Bahama. The move was a great success, offering kayakers some incredible challenges. One of those kayak anglers was Joe Kraatz who won the Billfish Division by reeling in a white Marlin.
Kayak fishing is quite challenging and offers a true test for anglers, especially when saltwater fishing. As Joe Hector, owner and manager of the tournament, said "You are the Captain, the Navigator, the First Mate, and you are in control of yourself. It's all on you." Joe Kraatz was enjoying his second day out on the beautiful ocean of the Bahamas when his winning catch took the bait. The white Marlin was so big and strong that it not only dragged Kraatz along, but also a camera man that was hanging onto the back of the kayak. As can be seen in video of the event, the fish is huge and Kraatz had quite a fight to reel it in. He said "I started putting tension on it. That's when it really took off." After about an hour of being dragged all over the ocean, the marlin finally tired and Kraatz was able to reel it in and take a picture before releasing it.
The catch won Kraatz the Billfish Division of the Extreme Kayaking Fishing Tournament, but he wasn't the only one to tussle with a Marlin. Matt Eckert hooked a blue Marlin estimated at 500 pounds which he fought for 11 hours before the line finally snapped and the fish escaped.
Thanks to WPTV for the original report.