New Species of Sea Cucumber Found in Costa Rica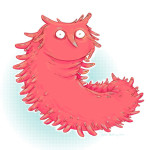 The Cabo Blanco Nature Reserve found at the tip of the Nicoya Peninsula in Costa Rica is not only an important conservation project, it's also the first area to ever be protected in Costa Rica. Encompassing3,140 acres of land and 4,420 acres of ocean, there are an incredible number of flora and fauna that make their home here. Now in its 50th Anniversary, the Cabo Blanco Nature Reserve has something even more important to celebrate: the discovery of a new species of Sea Cucumber.
The new species, named Lissothuria Caboblanquensis in honor of the Nature Reserve, was found just 17ft down on the ocean bedrock by Jaime Nivia. Sea Cucumbers are invertebrates that feed off the sediment on the seafloor digesting detritus and organic matter thus playing an import role in the marine bio-cycle. Unfortunately they are prized in Asia, especially China, for their purported aphrodisiac effects and other uses like joint pain. That demand has led to overfishing and population destruction in many areas around the world including Costa Rica's Caribbean coast. Fully protected under Costa Rican law, the illegal fishing of Sea Cucumbers is a tough problem to combat as they are easy to locate and harvest.
The intense biodiversity along the coasts of Costa Rica has long made it a fishing and diving paradise. Costa Rica counts some 80 species of Sea Cucumbers or around 5.7% of the total worldwide. The new Lissothuria Caboblanquensis is classified under the genus Lissothuria Verrill but it features towers with spiny apex and distinct shapes in its dorsal body wall, making it unique among other species in this genus.
The establishment of the Cabo Blanco Nature Reserve gave birth to Costa Rica's immense national park system which has been responsible for the impressive growth of ecotourism in the country. It is therefore fitting that it is in that same conservation area that a new species has been found.
Thanks to the Costa Rican Times for the original report.