Presidential Decree Limiting Commercial Tuna Fishing in Costa Rica Delayed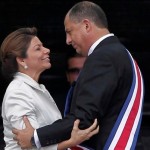 Environmental groups, the sport fishing industry, and local small-scale fishermen rejoiced recently when outgoing Costa Rican President Laura Chinchilla signed a decree severely restricting industrial tuna fishing off Costa Rica's Pacific Coast. While she signed the decree, it is not law until published in Costa Rica's government newspaper and Chinchilla did not order it published before she left office. This technicality means that new President Luis Guillermo Solis is now in charge of making any decisions about the decree.
While President Solis and the director of the Costa Rican Fisheries Institute (INCOPESCA), Gustavo Meneses, have not publically stated whether they are for or against the decree's restrictions, the decree nevertheless remains unenforced. Currently they have a self-imposed deadline of two months to study the decree and make a decision. Meneses said "You can't be in favor of something you know nothing about. We are not going to irresponsibly approve a decree from the previous administration before we know everything about it."
The decree would create two subzones within Costa Rica's Exclusive Economic Zone where fishing with purse seine nets would be prohibited. The first zone is the first 60 miles off Costa Rica's Pacific Coast, while the second zone consists of almost 49,000 square miles surrounding Cocos Island, a UNESCO World Heritage site and one of Costa Rica's most important conservation areas.
Tuna cannery Sardimar, which currently operates in Costa Rica, controls some 70% of the Central American market for canned tuna thanks to some helpful regulations in Costa Rica. They say the decree will put them out of business, potentially eliminating some 1,500 jobs.
The task of sustainably managing the country's fisheries is difficult and the decree isn't perfect. Meneses said "What I do know is that the regulatory measures needed to implement this decree are not in INCOPESCA's budget. We agree that we need to develop a fishing management strategy, but we can't take on something completely unviable."
Thanks to the Tico Times for the original report.