Outgoing Costa Rican President Limits Commercial Tuna Fishing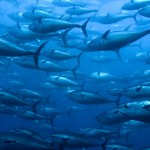 Costa Rica is one of the most bio-diverse areas on the planet. On land and at sea the incredible variety of life draws visitors from all over. However, that very biodiversity means that exploitation is incredibly profitable. For a long time commercial tuna fishing with long dragnets have been pulling up anything and everything right up to the coastal waters of Costa Rica. Now outgoing President Laura Chinchilla has signed a decree that commercial tuna fishing ships must be at least 60 miles off the Pacific Coast of Costa Rica.
The new decree should be a boon both for conservation and tourism. The enormous fishing nets ensnare everything in their way including dolphins and turtles. Not only were other species suffering but the tuna population was also being depleted. Thanks to the new decree, environmentalists are optimistic that there will be rapid recovery among the tuna and dolphin populations as well as other marine species that have been driven from the area.
With the restoration of the marine ecosystem brings the promise of even more unbeatable sportfishing and increased ecotourism to see massive dolphin pods among many others. Costa Rica has long been a leader in sustainable and adventure tourism. That position is increasingly under threat as various human influences take their toll on the local environment. Now more than ever environmental protection is important for Costa Rica to maintain the incredible biodiversity that draws so many tourists year after year.
Mike Hardy, owner of a local tourism company, said "This is great news. We have some of the most prolific sport fishing in the world, and one could also argue that Costa Rica is one of the most ecologically diverse places on the planet. It would be a shame to have all that destroyed by the continuation of unregulated commercial fishing."