Kiribati Ceases Commercial Fishing in 164,200 Square Miles of Pacific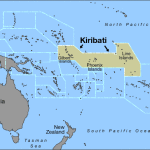 Kiribati is an island nation spread over some 1,351,000 square miles between Fiji and Hawaii. While the nation has very little land, its great expanse of ocean territory is teaming with marine life. Kiribati created the Phoenix Islands Protected Area in 2006 and when it expanded in 2008 to about the size of California, the 164,200 square mile park became the largest marine conservation area in the world. Despite being a Protected Area, in practice only 3% of the reserve around the islands had commercial fishing banned. Now as part of the recent Our Ocean conference, Kiribati has declared an end to all commercial fishing within the Phoenix Islands Protected Area.
In addition, the area around the southern Line Islands will also have commercial fishing banned. The date for all of this to happen is January 1st, 2015. Covered in 2009 in National Geographic's Pristine Seas project, the reefs, lagoons, and atolls that make up Kiribati are some of the world's healthiest marine habitats. As the leader of National Geographic's expedition to the area, Enric Sala said "Diving in the southern Line Islands is like getting in a time machine and traveling back to the reefs of the past, when sharks – and not humans – where the top predators."
While the new announcement is very important, Kiribati's president, Anote Tong, said protected areas "have no meanings unless they are enforced. Let us pool our resources to protect this gift, our mother ocean. Inaction is no longer an option." Enforcement in these types of areas is very difficult. To do a good job of it, technology like aircraft patrols and satellite-based remote sensors are required.
That is the same type of equipment that Costa Rica is currently acquiring to protect its marine preserve around Cocos Island. With income and jobs from industrial tuna fishing reduced, hopefully Kiribati will follow Costa Rica's lead in developing sustainable ecotourism and adventure travel as an even better form of income from marine protected areas.
Thanks to National Geographic for the original report.