Here and There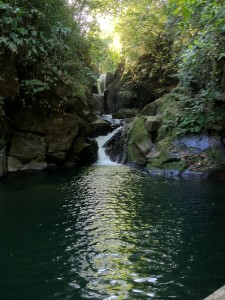 Hi Everyone, It's been a few weeks since I posted and thought it was time to give you an update. My brother and I have been exploring some new territories and have come back with at least one jewel. We went on a rafting trip down the Rio Sarapaqui in the Northern Zone of the country and after some 4×4 action found a private forest reserve with one of the most beautiful waterfall and pool settings I have ever seen.
Our friendly host Edgar has 35 hectares (70 acres) of primal first growth forest, that he has protected while others in the area have logged the lands. He offers forest hikes, camping and butterfly gardens and we will be working together with him on our tours. This will be a wonderful area for Forest Bathing.
After Sarapiqui it was back to the Nicoya Peninsula and fishing. You can see a quick video of one morning with Aaron and myself kayak fishing. We caught a few fish this morning but the heart breaker was when I was not 15 meters out of the surf line up at Playa Hermosa and hooked into a snook that jumped twice and threw the lure! A surfer was sitting there watching and we both yelled NOOOOOOO at the same time LOL. The water, by the way, has been crystal clear and the mornings paddle was really nice seeing all the reef underneath the surface.
So back to the camp. We have been laying out the areas for putting the tent platforms to accommodate a few more guests and looking at our tent options. I am very excited about this and am waiting for a quote now on the platform wood.
We have the water tank completed as I mentioned in the last post and the water delivered. No leaks so far, so we are golden! Have done some decorating with the stone around the bathroom and I think it looks great. We started clearing unwanted weeds and shrubs this week getting ready for planting back bananas, heliconias, gingers and other native tree species.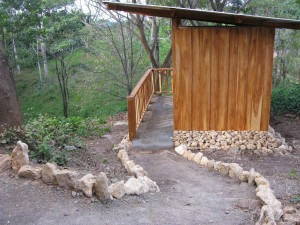 Have a primal one!