New Ecotourism Projects in Ivory Coast Hope to Save Chimpanzees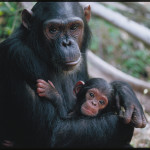 The Ivory Coast in West Africa has been trapped for quite some time in the aftereffects of civil war and more violence following disputed elections in 2011. Thankfully things are on the mend with economy now recovering amid many signs that the country has returned to stability. However, just as the human population has suffered, so too has the Chimpanzee population in the Ivory Coast's Tai National Park with an estimated 90% decline in the population over the last two decades. Now conservationists in the country are hoping that the development of ecotourism will curb the factors that are still feeding this precipitous decline.
Environmental degradation is one of the primary factors that are impacting the Chimpanzees. The Ivory Coast is the world's largest exporter of cocoa. As the country's residents try to climb back into economic prosperity, cocoa fields are now found right up to the edge of the park. Poaching also plays a part, as many Ivorians consider Chimpanzee meat to be a delicacy.
Christophe Boesch has been studying the Chimpanzees in the Ivory Coast for 35 years as the directory of West Africa's Wild Chimpanzee Foundation. He said that when he first arrived in 1979 they drove for 100 km of untouched forest and they "saw elephants and chimpanzees crossing." Victor Tere, a village chief near the park, said "Before, when I was young, chimpanzees came very close to the village. They would sometimes even come in. Now we don't see them."
Two new ecotourism projects hope to remedy the situation by giving the local populace a different source of income that encourages the protection of the forest. Boesch said "It is important that people see they can profit from conservation." The typical tour involves a three-day trek through the forest with long hikes, sleeping in tents, and climbing the nearby Mount Nienokoue. Not only do these tours create direct employment opportunities, but tourists also spend money in the communities as they pass through. There is still a long way to go, but there is great hope for the benefits of ecotourism in the Ivory Coast.
Thanks to Fox News for the original report.