Costa Rica Will Raise Park Entrance Fees in August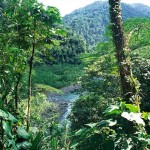 Costa Rica has made itself a model for ecotourism and adventure tourism thanks to its dedication to national parks and conservation areas. In total these protected areas make up more than 25% of Costa Rica's total landmass. While Costa Rica has done well maintaining and regulating these areas, the costs of doing so are going up. Because of that, a decree authorizing new fees published on April 30th will take effect on August 1st.
The entrance fees to Costa Rica's national parks have always been reasonable, and the new rate hike maintains that spirit. While the new decree sets different rates for foreigners and residents, the average entrance fee for a foreign tourist will only be $5. Other parks will charge between $10 and $15 for foreigners and the most expensive park is the World Heritage site at Cocos Island National Park which will cost $50 for foreigners and $25 for residents.
The vast majority of Costa Rica's parks are open the entire year except for a few holidays. Park entrance fees can be paid on arrival for all except three parks. Those are Chirripo National Park, Corcovado National Park, and Caño National park. These protected areas have regulated admission due to their sensitive and remote nature and because lodging inside the park is necessary.
Another new feature of the decree is that there will be different fees for those entering the park for filming or research purposes. Visitors conducting filming for tourism, educational, or scientific reasons will be charged $300 a day, while filming for commercial purposes will cost $1,000 a day. For researchers authorized by Costa Rica's SINAC ministry costs will range from $5 to $15 a day depending on the length of the research project.
Under Costa Rican law all revenue from these entrance fees must be used by the National Parks Fund and as Ana Lorena Guevara, the former Environment Vice Minister, said "All funds will be invested in operational expenses, such as providing park rangers with appropriate weapons and equipment or infrastructure improvements."
Thanks to the Tico Times for the original details.