Cocos Island Hydroelectric Plant Slated for Completion by Year's End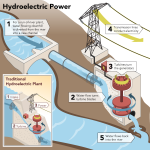 Cocos Island is one of Costa Rica's most precious ecosystems. Lying more than 300 miles off the Pacific Coast of Costa Rica, the island is unique and the wealth of marine life that congregates in the surrounding waters is unbelievable. Designated a national park since 1978 and a UNESCO World Heritage Site in 1997, public access is severely restricted and the island is only inhabited by park rangers and scientists. Because there is so little human activity, the electric needs of Cocos Island have been fulfilled by hydrocarbon based generation. That is expected to change by the end of the year when the CNFL (National Power and Light Company) completes construction of a new hydroelectric plant.
The construction of the new hydroelectric plant serves two purposes. One is part of Costa Rica's push to lower its dependence on fossil fuels. As a world leader in ecotourism and adventure tourism, the continued success of its program of nature conservation is highly dependent on moving to renewable sources of energy. The other reason is that Cocos Island now has an increased need for electricity. That is because the Forever Costa Rica foundation is in the process of installing several radar stations on the island to help the park rangers combat the ongoing problem of illegal fishing in the area.
The Cocos Island National Park not only includes the area of the island, but also an area of almost 2,000 square kilometers of the surrounding ocean. The marine wildlife in this area is incredible and has been named one of the 10 best scuba diving spots in the world by the Professional Association of Diving Instructors. Protecting that much area is a difficult task, however, the new radar installation should make that task much easier.
The hydroelectric plant wouldn't have been possible without the donation of the turbine by the Japanese Embassy to Costa Rica and with workers completing construction around the clock the CNFL has good expectations that the plant will be completed by November of December.
Thanks to The Costa Rica News for the original story.