Archives for Beginnings
My son and I have just returned from a week at the camp where we enjoyed the latest editions to our creature comforts. We now have a toilet, sink and ...
Beginnings
Things are moving along at the camp site in Santa Teresa. The bathroom and shower area now have a roof, and the walls and finishing touches are almost complete. It ...
Beginnings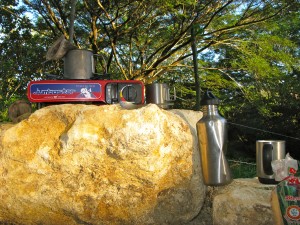 I really love the colors in this photo and being that it is the first camp kitchen it needed to be documented here. Mostly coffee being made here, but some fried eggs are in order as well.
Beginnings