Angolan Team Wins 2014 Offshore World Championship in Costa Rica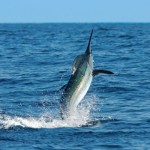 Costa Rica is a deep-sea sportfishing paradise with fisheries that provide great fun and challenge year round. It is no wonder then, that the annual Offshore World Championship is held here in Quepos out of the Pez Vela Marina. 2014 represents the 15th annual holding of the tournament and it turned out to be one for the record books. In total 2,724 sailfish, 7 blue marlin, 1 black marlin, and 1 striped marlin were released in just three days. On top of them all was a team from Angola with 76 sailfish and 2 dorado for a total of 15,263.6 points to be crowned 2014 Offshore World Champions.
The Angolan team, made up of father and sons Jan, Roderick, and Kevin Jongschaap plus Jose Manuel Cardoso qualified for the championship by winning the Luanda Sailfish Classic. They received lots of kit and prizes for the first place finish, and perhaps more importantly, the recognition as Offshore World Champions. Second place went to a team of Brazilians who qualified via the Torneio Marlin Azul do Rio de Janeiro. Third place was taken by a team of anglers from the US who won the Presidential Challenge of Guatemala.
Sponsored by the Costa Rican Tourist Board and supported by the Costa Rican Fisheries Federation, sustainability and respect for the environment were key points for the tournament. Sustainable use of Costa Rica's fisheries is of great importance not just for the environment, but also for the continued success of sportfishing tourism that brings so much economic development to the area.
Adventure and Eco tourism make for a great partnership that can preserve the great natural wonders in Costa Rica, and it is only through sustainable business practices that great events like the Offshore World Championships will continue to be such a success.
Thanks to OffshoreWorldChampionship.com for the details.