Fishing
Another reason I moved to Costa Rica is the Fishing. From deep-sea fishing for sailfish to high mountain trout, Costa Rica offers you a wide selection of fishing opportunities.
At GoPrimal Costa Rica we focus more on inshore fishing. Due to the close proximity of the Pacific shelf to the coastline we pull in every thing from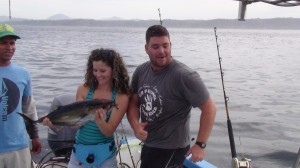 Dorado (Mahi Mahi), Yellow Fin Tuna, Wahoo, Rooster Fish, Amber Jack, Grouper and Snapper just a couple of miles offshore. We use a custom 26 ft boat with twin Yamaha 115's for these trips.
Fishing closer to the action inshore from our Kayaks, we catch Rooster Fish, Snapper, Mackerel, Barracuda, and more.
We also fish a lot from the beach river mouths and reefs. Here we get Snappers, Roosterfish, Sea Bass and with live baits the elusive Snook.
We can also do fresh water fishing on extended trips where you are more interested in fishing the inland waters, and we have a couple of good friends with fish camps . One is near the Nicaraguan border, (think Tarpon, Snook and backwater light tackle for the Bream family of fish and other exotic tropicals. Another option we recommend is Drake Bay where our other buddy's camp is. Again the standard offshore species along with Big Snook in the river mouths are up for grabs here too. Believe it or not, there have been confirmed Tarpon catches on the southern Pacific side as well. Apparently they have now officially made it from the Atlantic through the Panama Canal.
If you want to fish then we got you covered!
Tight lines!