Where I Am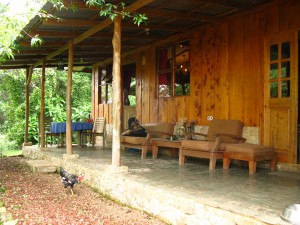 Watershed near camp in hills above Santa Teresa, Costa Rica
I spend my time split between a small farm in the Providence of Heredia, Costa Rica and a small camp in the hills of the Nicoya Peninsula, Costa Rica.
The farm is located just outside what is known as the Central Valley of Costa Rica. The capital city of San Jose is about 50 minutes away and the Juan Santa Maria International airport just 35 minutes.
Farm elevation is 1700 meters above sea level (5500 ft) and a short distance to the Braulio Carillo National Park. The air here is cool and fresh year round with temperatures ranging between 10˚C/50˚F and 24˚C/75˚F. Here is where you might say it is truly eternal Spring. Pure country living and the organic garden has something growing year round but you have the convenience of the Metropolitan area just 30 minutes away.
The Camp in Nicoya is on the edge of a forest area just 5-10 minutes to some of the most beautiful beaches Costa Rica has to offer and the Mal Pais/Santa Teresa beach communities. Temperatures here are a bit warmer than Heredia with year round temps ranging from 21˚C/70˚F and 35˚C/95˚F. The area also is close to the Cabo Blanco Absolute Natural Reserve. World class surfing, fishing, and almost all manner of outdoor activity, natural beauty and a slower pace of life is the big draw to this ever growing community of eclectic people from all over the world. Once you experience it you will see why people keep coming back and some even take the big leap and relocate here.